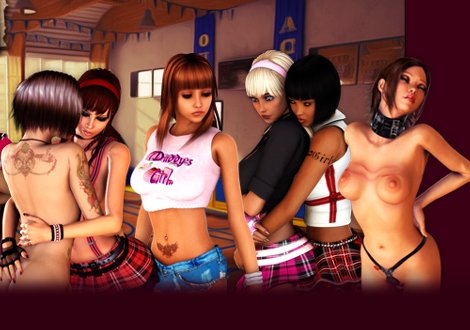 Outcast Academy
Adventure erotic game with naked stundent sex play
Outcast Academy is probably the best erotic adventure game with sex scenes and RPG elements. Funny thing for all who want to meet virtual students and decide what happens next. The game is full of really nice and natural pupils and hot MILF teachers. Outcast Academy is not a 3D sex simulation where we create own models and fuck them the way we want. Here we have a task to perform, the game offers an entertaining story. It is necessary to survive in a female dorm for 50 days. At the first sight it is a cool thing, but read on...

Female dorm has own rules that every student have to follow. First of all it is prohibited to smoke and fight, it is not allowed to drink alcohol and have any kind of sexual activities. It's funny! Every person who had contact with studies knows, that those rules are silly. Just think about student party, we all know that there is alcohol, cigarettes and casual sex. Outcast Academy provides MILF tutors and mean teachers who watch to respect the rules. Before you take another sip of vodka or beer, just look around. Beware of squealers who will do everything to get a better semester mark. Whistle blowing for them is an usual thing.

Outcast Academy is a sex game of choice. Each decision you take has an influence on the future. When you talk to a girl, you can be polite or rude. You can kiss her gently or put a hand under her dress. Dance at the disco or propose her casual fuck in the toilet. The girls are different, they are characterized by different temperament, behavior, needs and look. Think what to do next, each step leads to a different scene. Outcast Academy hides many various endings. Try to learn more about female desires, try to fuck all of them, learn how to behave in the group of jealous ladies.
Send that link to e-mail and play later...